Detailed Weather Update
Moderate to heavy rain/snow is expected in Jammu and Kashmir between today evening and Tuesday morning.
Most places in Jammu and Kashmir will see cloudy weather conditions till late afternoon today. A few places in higher reaches, particularly higher reaches in Ganderbal, Anantnag, and Bandipora, may receive light snow showers.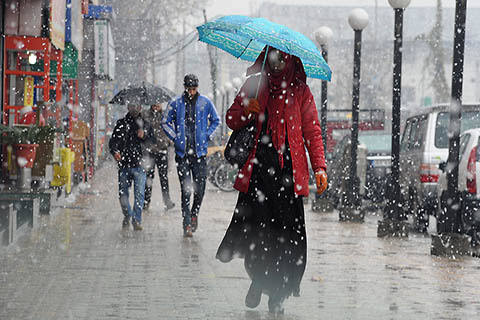 Around 6 – 8 p.m., some parts of Jammu and south Kashmir will start receiving rain/snow showers. By 12 a.m., rain/snow would have occurred at most places in Jammu and Kashmir.
Its intensity will be maximum over parts of Jammu region. Heavy rainfall, with the possibility of snowfall in higher reaches, is expected in parts of Doda, Poonch, Ramban, Udhampur, and Rajouri districts. In other districts, there is a possibility of moderate rain/snow, with some chances that a few areas may receive a heavy spell of rain/snow.
For Kashmir region, the weather models have been changing the intensity and pattern of precipitation continuously. Hence, it is difficult to say which area will receive the maximum precipitation.
Overall, moderate to heavy rain/snow is expected at most places in Kashmir. Snow chances for plains are greater than 75%.
Maximum possibility of heavy snowfall is for Shopian and Kulgam districts.
A few places in higher reaches can record up to 5 feet of snow.
Improvement in weather is expected from Monday evening onwards. However, a few places can continue to record rain/snow till Tuesday morning.
A weak Western Disturbance is possible between 01 Feb evening and 03 Feb morning.
Additional:
1. Air and surface transport on Monday are likely to be affected.
2. Shooting stones/landslides are also possible on Jammu-Srinagar National Highway.
3. Risk of Flash floods in some areas of Jammu region.
4. There will be a risk of avalanches in avalanche-prone areas.
Regards: Kashmir Weather
JK Student News Is of the best news portal in Jammu and Kashmir Breaking News, Politics, Public Issues, Current affairs,Results, Datesheet,Notification.